Water Heater Installation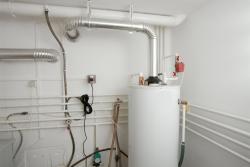 Aside from poor performance and high energy costs, many potential dangers can result from improper water heater installation. That's why choosing the right plumbing contractors can make all the difference. If your water heater is broken or in need of maintenance, our licensed expert technicians can often schedule an appointment and have the problem fixed the very same day.
Don't stress over water heater repairs, either. We will take plumbing problems off your back. You may purchase a water heater through us or pick up one from the supplier of your choice and hire us to install it.
Call us — the water heater installation and repair specialists — today for an appointment!